Bathroom remodels can come in many shapes, sizes, and scope, but one key factor across all bath renovations is ventilation. Whether you realize it or not, a bathroom vent not only removes odor and moisture from the smallest space in the room, it also services as a safety feature that's required to keep your bathroom up to code. Choosing the right bathroom fan during your design process will affect the ease in which you can keep your bathroom clean and safe in the years to come.
Here, we'll outline the importance of an often-overlooked bathroom feature and how to keep ventilation on your mind throughout the remodeling process.
The Importance of Bathroom Exhaust Fans
According to Central Heating and Air Conditioning, bathroom exhaust fans serve many important purposes for the functionality and safety of your bathroom. 
Sanitary Benefits
Bathrooms are small, often enclosed, spaces in your home that have limited airflow and ways to draw out odors and moisture with ease. It's also the "wettest" part of your home. Unpleasant odors and moisture from showering are regulated through the use of a ceiling bathroom fan, helping to keep your bathroom sanitary for guests and other members of your family. The power of your fan will affect how easily you can ventilate your space.
Moisture Reduction, Damage Control, and Safety Features
Without a fan, your bathroom would accumulate water on your mirrors, flooring, walls, and ceiling every time you run the shower. Shower vents are able to regulate the amount of moisture that's present in your space after use. Keeping moisture regulated also helps to prevent damage to areas where water shouldn't be, like walls, wood flooring, and even your fixtures and finishes. This also helps prevent molding issues throughout your bathroom, and an unventilated area is a breeding ground for long-lasting issues like this. 
It's also worth noting that bathrooms are often cleaned with harsh chemicals, like bleach. Proper ventilation allows those fumes to be removed from the bathroom as you clean, rather than chemicals accumulating as you clean.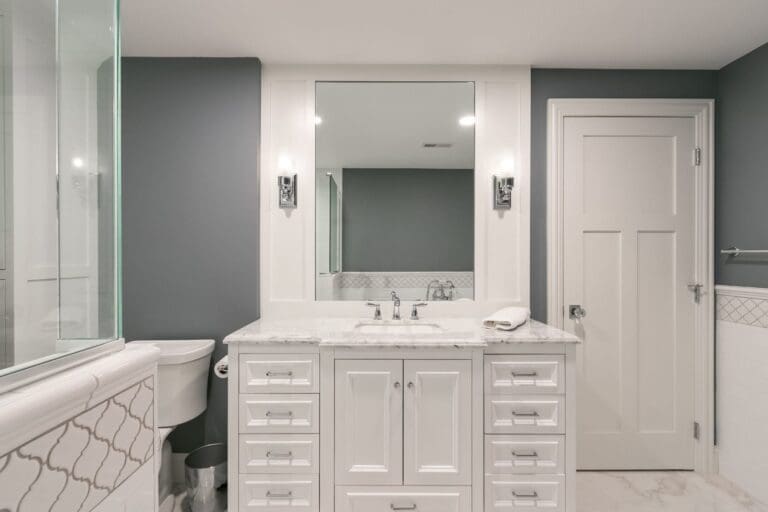 Bathroom fans are placed similarly to lighting fixtures, running on a standard electrical current. Vents are hooked up to a switch in your bathroom, much like a light, to run the fan when needed for the amount of time you need. When running, the bathroom fan draws out moisture, odors, and cleaning fumes through a duct out to an outdoor vent on your building. When not in use, the duct closes using a cover plate. If you're building a new bathroom, your remodeling partner may have to install that outdoor vent.
Practical Vent Needs and Your Bathroom Design
Did you consider vent placement and what vents you'll choose when designing your bathroom? With a design-build firm like FBC, your project manager will help you through the process of properly designing your new bath with ventilation in mind.
Some quick tips for placing your new fan:
You'll want to place your vent fan near the area or areas of your bathroom that exude the most moisture, like your shower or sink. The further away from the source, the less effective your fan will be.
Ask your design partner about the options for the fan type that you'd like. It's important to note that not all bathroom vents are the same, and they come in all shapes, sizes, functionalities, and volume. You can even make your bathroom fan "smart" and install a fan that is Bluetooth activated.
Consider the ceiling height of your bathroom. For instance, if you have a higher- than- normal ceiling height, you'll likely need a stronger fan to achieve that proper ventilation. Talk to your partner about the strength of vent you'll need for your remodel!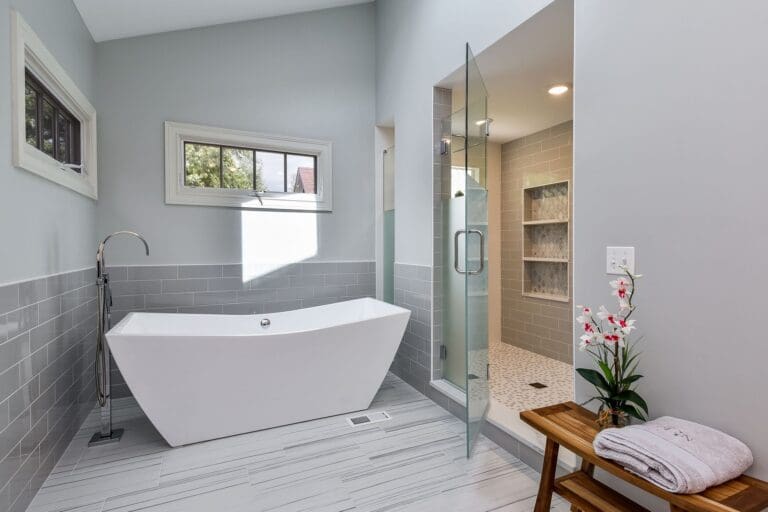 Best Practices for Maintaining Your Bathroom
The job doesn't end after your remodel! Once finished, it's important to properly utilize your fan to prevent any safety or hygiene issues in the future. After all, most vents are turned off and on manually, and it does no good to have a great ventilation system in your new bathroom if you don't use it properly.
Some tips for maintaining your bathroom: 
Run your fan long enough. It's recommended to run your fan for fifteen minutes after showering to ensure enough time to air out your bathroom. If you happen to have a window, crack it open when needed to encourage more airflow. You can also crack open your door and pull back the shower curtain for a more thorough drying process.
Keep an eye on standing water and droplets. You wouldn't let a water puddle stand in your living room, so give your bathroom the same treatment! Sometimes, showering can leave puddles behind (especially in those smaller spaces). Make sure to clean up any puddles on the floor as well as anywhere else water droplets may be accumulating. This can include your walls and around your mirror. This will help prevent mold damage in the future.
Maintain the vent itself. Keep an eye on your vent, and take a few moments to clean off the vent covering when you start to see dust and dirt buildup. Remember, a clogged cover won't provide enough ventilation to properly air your space out!
How FBC Remodel Makes Bathroom Renovations Easy
There's a lot more thought that goes into building proper bathroom ventilation than you might think, especially if the space wasn't a bath previously. However, working with a design-build firm like FBC helps take the pressure off of the homeowner and onto an expert construction team that will take care of those details for you.
With FBC, you'll not only get a dedicated designer to transform a drab space into a comfortable oasis, but you'll also be matched with an expert project manager that will provide guidance and recommendations for the more technical aspects of your remodel.
A Bathroom Remodel Process Like No Other
FBC Remodel has a tried and true process that makes sure no detail, like ventilation, goes unchecked. While you're working with your designer to create the perfect layout and aesthetic, you'll be introduced to your project manager who will walk the space and identify any needs for construction. They'll be able to give you direction on where to place your vent, the power of the vent you'll need to properly remove moisture and odor, and any other mechanicals or needs that may come with it. 
The best part about the FBC process is our guaranteed price. We ensure that every detail of your construction — from beautiful finishes to any "unseen" work behind your walls — is outlined and guaranteed before we begin building out your new bath. If any further work we don't scope out pops up during construction, we handle that cost — on us.
Keep Your Bathroom Fresh With a Redesign
Ready to get started on your bathroom redesign? We'd love to be your design and construction partner for your dream bathroom. Reach out to our team today to chat more about your vision, and we'll match you with one of our award-winning designers for a complimentary design consultation!