Owner's Suites Remodels in Colorado, Illinois, and Minnesota 
Your bedroom is more than just a place you go to sleep. It can be your own personal getaway, your sanctuary, a place to unwind and relax after a long day. A bedroom remodel with FBC Remodel's award-winning design team, means you can transform your existing bedroom or suite into a space that genuinely feels like an oasis. We'll work closely with you to turn your wants and ideas into your bedroom reality. As a design-build remodeling company with over two decades of experience, we're confident in our ability to create the perfect master bedroom for you!
Contact our award-winning designers at FBC Remodel to set up your complimentary design consultation. We'll work with you from beginning to end to ensure you end up with the master suite you've always dreamed of.
Master Suite Remodeling in Colorado, Minnesota, and Illinois
Your home is a reflection of your style and personality – especially the master suite. If your master suite doesn't mesh with your style or lacks that extra something that will make it a special place for you, it is time to reach out! The design experts at FBC Remodel can help. Our design team will sit down with you and discuss what is and is not working in your current room. We'll also look at any inspiration you may have and get an overall feel for your style and personality. We are committed to building joy in your home! During the design process, we will show you a 3D rendering of your future master suite. This is where we will take the extra time to make any changes necessary to ensure that you are happy with the design before construction for your bedroom renovation begins.
Our remodeling process is entirely transparent, from beginning to end. Our design team will show you several design proposals to ensure your suite design is everything you dreamed it would be. Once you select a design and view the 3D rendering, we'll provide you with the final construction drawings and a detailed list of all the elements of your project. You'll receive a thorough construction calendar and weekly updates during the construction phase, so you always know what's happening. You will be connected to our team during every stage of your remodel.
Are you ready to create your sanctuary? Transform your bedroom into the master suite of your dreams!  Contact us today to schedule your complimentary consultation!
Bedroom Suite Planning
Typically, a bedroom remodel is done in partnership with a master bath remodel to truly transform your entire suite into an oasis for you to enjoy. Remodeling both spaces together helps to create a more desirable and cohesive look in your master suite. You may even consider adding a closet remodel to tie everything together!
Planning your bedroom remodel is an exciting and fun task, but there is a lot to think about before you get started. When you are planning out your future space consider the following essential points before meeting with your designer. Having an idea of what you want and how you want your space to look before your design consult will help ensure you get the finished design that's right for you.
Before you start your remodel, think about if your bedroom suite is actually working for you functionally and personally. Do you have the space and storage you need? Are you missing out on valuable functional areas that could be added like a reading nook or a meditation space? Does the furniture you currently have bring you joy?
Does the design of your bedroom resonate with your personal style? Think about what could make the space more relaxing or easier for you to maintain. Maybe it's time to let go of carpet and opt for hardwood floors. Changes like a fresh coat of paint can provide your room with an entirely new feel. Moving doors and adding windows are also ways that you can create better functionality and movement in your room and even bring in more natural light!
It can be easy to think about your bedroom as a single space. When you're remodeling your master bedroom, though, it is better to consider it a piece of your entire master suite.  Completing a full bedroom suite remodel all at once – your bedroom, bathroom and closet – means you will get one cohesive space that flows together both stylistically and functionally. Customize your entire suite to be a perfect fit for your everyday life.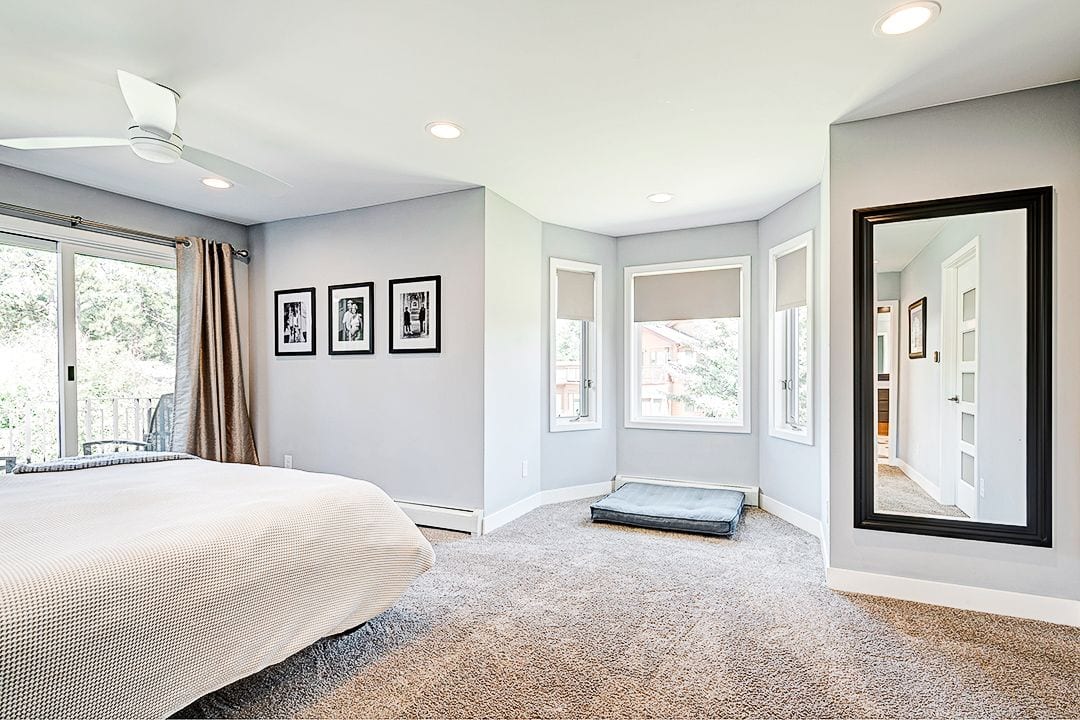 Why Choose FBC Remodel for Your Master Suite Renovation?
FBC Remodel has been building dream spaces for over 20 years. We have experience in many different styles and are always up on current design trends. Client satisfaction is our top priority and we are dedicated to building joy in each home we enter. See why your Colorado, Minnesota, and Illinois neighbors have been trusting us as their local remodeling company: